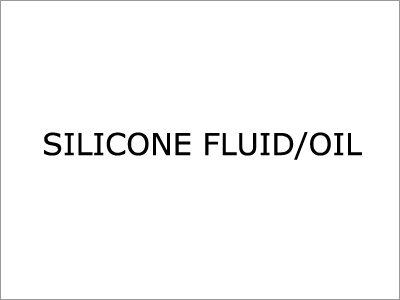 Product Description
Silicone Fluid Oil play an important role in Vitreoretinal surgery due to its capability of displacing aqueous humor within the eye from the retinal surface while maintaining adhesion between retinal pigment known as epithelium and retina. Keeping this aspect in view, we offer Silicon Oil which is formulated by using the finest quality chemical compounds and appears to be transparent in nature.

Chemical Properties :

The mentioned product has been prepared with the help of hydrophobic group of various monomeric and polymeric compounds consisting silicone and oxygen atoms. This polymer chain is known to be organosiloxane.
Areas of Applications :

Chemical Industry: Because of its excellent resistivity to weather, high chemical stability, anti shearing capability, these are highly demanded for lubrication used for insulating applications.
Medical Industry: Based on its defoaming effect, it is used for preparing pulmonary edema aerosol, oral gastrointestinal dimethicone, etc.
Cosmetic Industry: Used as an essential ingredient in many suntan lotions, hair grooming products, skin protectants and hard creams, etc.
Automotive Industry: Acts as a mold release agent and helps in making the surface smooth and clean.
Textile Industry: Modification helps in smoothing the surfaces of textiles to make it feel softer.
Electrical Industry: Can be used in a number of damping and insulating applications

Key Points

Renders excellent purity with high viscosity and thermal stability
Available viscosity ranges from 0.65 to 1,00,000 centistokes
High resistivity against oxidation and renders heat stability

Solubility:

Solubility of our offered Silicone Fluid varies differently as per the chosen viscosity. Oils with lower viscosity can be easily soluble in water in comparison to the oils with higher grades of viscosity. It is important to consider toxicity and flammability while opting for the a solvent. Below mentioned are the solubility indicated:
Non-Warranty: Although, the provided information is correct as per the knowledge and experience yet the products offered by us are solely based upon our clients' verification, innovation and consideration.

SILICONE OIL is a water clear silicone fluid available in viscosities ranging from 0.65 centistokes to 1,00,000 centistokes. Important features of fluid include:

Little change in physical properties over a wide temperature span a relative flat viscosity temperature slope and serviceability from -- 40 to over 400° F (-40 to 204oC).
Excellent water repellency.
Good dielectric properties over a wide range of temperature and frequencies.
Low surface tension readily wets clean surfaces to impart water repellency and release characteristics.
Low toxicity tests have established that SILICONE OIL is essentially Non-toxic and non-irritating (although temporary discomfort may result if rubbed into the eye).
SILICONE OIL also exhibits heat stability, oxidation resistance, very low vapour pressure, and high flash points. It is insoluble in organic liquid other than active solvents and is non-greasy, non-rancidifying and virtually odorless.

Uses:
Its unique combination of outstanding properties suit SILICONE OIL from a variety of application functions, as well as for a wide range of products and process.
As a Release Material:
Used along or as part of a compounded formula, SILICONE OIL provides an odorless, non-toxic, non-carbonizing mould release for rubber, plastics & metal die castings.
As a Foam Reventive:
Extremely small amounts of the fluid effectively control foam in many procession operations, especially in non- adueous systems.

As a Mechanical Fluid:
Excellent viscosity temperature characteristics, therms and chemical stability shear breakdown resistance, compressibility make SILICONE OIL outstanding for mechanical/hydraulic uses. Typical uses include hydraulic stabilizers, damping mediums.
As a Surface-Active Material:
Added vinyl plastisols and liquid springs, SILICONE OIL improves the flow characteristics, de-aerates and lubricates the surface of the completed part.
As a Lubricant:
The fluid provides excellent lubrication for plastic and elastomeric surfaces.

The Cosmetics and Skin Preparations:
It is an important ingredient in hard creams, skin proctactants, suntan lotions and hair grooming aids because it forms a non-greasy, protective film which resists water and waterborne irritants, yet allows the skin to breath.

In Polishes and Chemical Specialities:
SILICONE OIL is used in most automobile and furniture polishes for its case of application, high gloss with minimum rubbing, and a durable water repellent film. It is also used in many other specialty formulations, including aerosol starches and fabrics conditioners.
In Electrical / Electronic Equipments:
With excellent properties, SILICONE OIL is widely used for both insulating and damping applications. Refer to specific literature on SILICONE OIL, electrical-grade electronic grade.

In Food Processing:
Non-contaminating and non-adupterating, it is suited to many food processing applications. When considering the fluid for uses involving FDA regulation refer to literature on Food Grade SILICONE OIL.
Solubility:
The solubility of SILICONE OIL varies some what according to the viscosity chosen. The low viscosity grade are more completely soluble in a given solvent than are the higher viscosity grades. Since solubility varies, testing is recommended before attempting volume operations. Solubility of the silicone fluid in a number or commonly-used solvents is indicated below. Flammability and toxicity should also be important considerations in the choice of a solvent.

Properties:

Viscosity
at 25oC centistokes

Flash Point

Specific Gravity at 25oC

Visc- temp coefficient

Refractive index at25oC

Boiling point

Electrical strength KV, mm,measured at 1.270 mm gap on electrical grade fluid only*

100

303oC

0.968

0.60

1.403

2%

13.78 KV

200

315oC

0.971

0.62

1.4031

2%

13.78 KV

350

315oC

0.972

0.62

1.4032

2%

13.78 KV

500

315oC

0.972

0.62

1.4033

2%

13.78 KV

1000

315oC

0.972

0.62

1.4035

2%

13.78 KV

5000

315oC

0.973

0.61

1.4035

2%

14.76 KV

12500

315oC

0.973

0.61

1.4035

2%

14.76 KV

30000

315oC

0.973

0.61

1.4035

2%

14.76 KV

60000

315oC

0.973

0.61

1.4035

2%

14.76 KV

Packaging: Available in plastic containers weighing 1Kg, 5Kg, 30Kg & 50Kg

Non-Warranty : The information given in this bulletin is based on our experience which we believe to be reliance but we can't accept any responsibility for operations not under our direct control. It is offered solely for your consideration, innovation and verification.