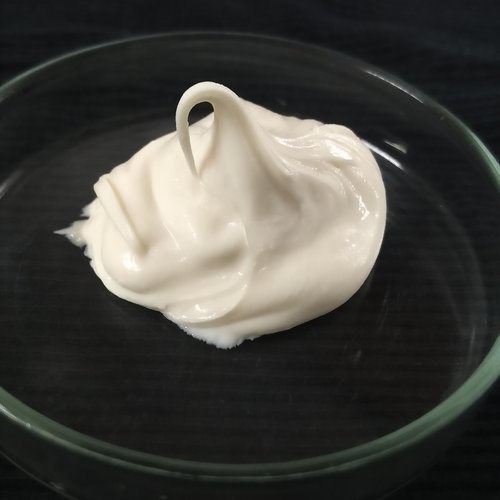 Product Description
PTFE Grease (P.T.F.E.):
Our provided PTFE Grease acts as a multi purpose synthetic lubricant which has been formulated using high grade Polytetrafluoroethylene particles that are held in suspension. The mentioned grease lasts for longer time period and outperforms all other conventional greases which are based on oil or petroleum. It is formulated by combining lithium based soap thickener and synthesized hydrocarbon base fluid.
Salient Features :

Wax free characteristic helps in allowing minimum temperature mobility and torque values for running and starting pump
Ideal for preventing corrosion, wear and extreme temperature degradation
Highly resistive to water because of its structural stability
Benefits of using PTFE Grease :

Excellent dielectric strength, minimum dissipation factor and high resistivity against insulation ad surface
Being oleophobic and hydrophobic in nature, the surfaces won't readily wet
Surfaces coated with the mentioned grease helps in reducing friction
Helps in preventing galling and render high bearing properties
Easy cleaning because of Non-stick or release properties

Applications :
PTFE Grease find usage in various applications that require lubricant for performing operations to work under different temperature range to have durable and reliable systems.

Advantages:
MRSLG is a synthetic grease provides these advantages when compared with mineral oil grease intended for similar service:

Operating range of 60 0 C.(-76 0 F.) TO +225 0 C. +(437 0 F.)
Excellent resistance to rust, corrosion, and oxidation.
Outstanding structural stability in presence of water.
Excellent wear protection under heavy loads and high temperatures.
Power-saving capabilities.
Extended re lubrication intervals- Low volatility.
NLGI GRADE: 2
Soap type: Lithium complex.

Structure: Smooth, Slight Tack.

Additive: P.T.F.E (PTFE)

PENETRATION AT 250 C(770 F.)
ASTM D 217, worked, 60 strokes. : 280
10,000 strokes : 295
100,000 : 305

Dropping point, 0 C (0 F.).
ASTM D 2265 : 220 (428)

Base Oil Viscosity
cSt at 400 C. : 46
cSt at 1000 C. 7.8

ISO VG, Base oil : 46

EP and wear protection
Four-Ball wear, scar Dia, mm, max.
Four-Ball EP, Weld Load, ASTM D 2596,kg. : None
Four-Ball EP, Load wear Index.

Corrosion Preventation, ASTM D 1743 : Pass
Emcor/SKF Water wash Test, IP 220 0.0

Water Washout, ASTM D 1264, 79 0 C
(175 0 C F.) wt. % max. 5.5

Evaporation, ASTM D 972, % at
177 0 C. (350 0 F.)
Product Details
| | |
| --- | --- |
| Additive | P.T.F.E (Teflon) |
| Water Washout, ASTM D 1264, 79 Deg C | 5.5 |
| Structure | Smooth and slight tack |
| Soap type | Lithium complex |
| Penetration at 250 DegC (770 F.) | STM D 217, worked, (60 strokes-280) (10,000 strokes-295) (100,000 strokes-305) |
| ISO VG, Base oil | 46 |
| Evaporation | ASTM D 972, % at 177 DegC. (350 Deg F.) |
| Emcor/SKF Water Wash Test | IP 220 0.0 |
| Dropping point | ASTM D 2265 : 220 (428) |
| Base Oil Viscosity: | CSTK at 400 Deg C (46)/ CSTK at 1000 Deg C (7.8) |